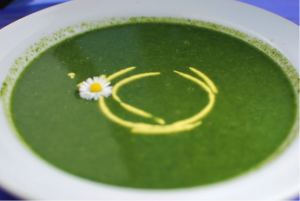 Serves 4-6
Description
You can make this creamy green soup with nettles, watercress, kale or a combination of leafy greens. I love making this soup in spring when nettles are abundant and most tender. But if nettles aren't available you can use this recipe to make a great watercress or kale soup.
Ingredients
2 medium Onions cut in half-moons
1 Tbsp extra virgin olive oil
1 lb. 500 gr Nettles, watercress or kale – wash them thoroughly and remove the tough stems
¼ cup Rice flakes (you can also use rolled oats if rice flakes are not available)
2 Tbsp Soy, oat or rice cuisine
1 tsp Vegetable bouillon
Sea salt
Fresh black pepper
1-2 tsp Umeboshi vinegar
¼ cup Parsley, chives or scallion/spring onion, washed, dried and finely chopped – to garnish
Instructions
In a soup pan heat the olive oil and sauté the onions with a pinch of sea salt until glassy and sweet.
Add 3-4 cups of water and the rice flakes. Bring to a gentle boil.
Add ½ tsp sea salt, the bouillon and the greens. Cover and simmer for about 5 minutes or until greens are tender but still have their bright color.
Use an immersion blender to puree your soup. Add the cream, umeboshi vinegar and a few turns of black pepper.
Serve hot with fresh garnish, enjoy!
Tip
Nettles are abundant in the spring. Wear gloves when you are picking nettles to avoid the sting and only pick the top 4-6 leaves of the plants. Wash carefully whilst still wearing the gloves.
Don't overcook the greens, this soup tastes best and is most beautiful when the greens retain their bright green color!
Variations
Replace nettles with chopped kale, watercress or collard greens.
For a lighter version leave out the cream.
Alternatively garnish with toasted pumpkin or sunflower seeds.
Garnish with soy, rice or oat cuisine (cream) whisked with a little turmeric, as seen in photo.